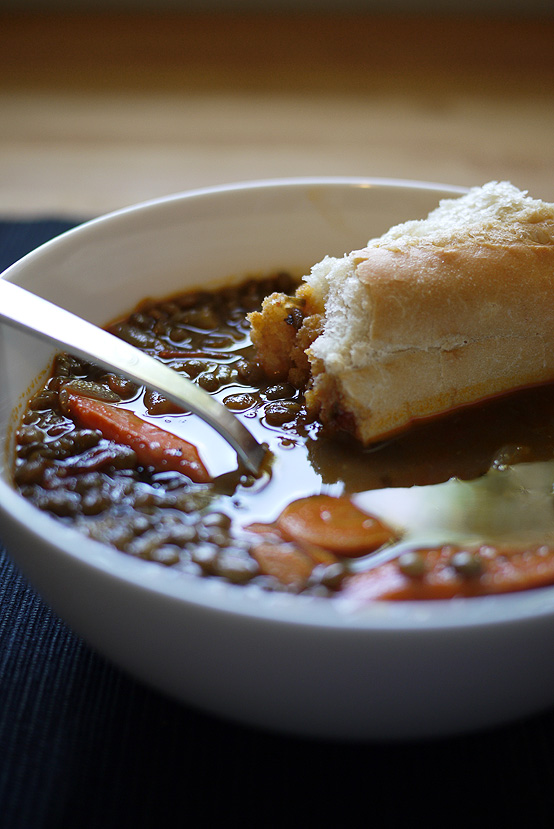 Recipe
Prep + cook time: 1 hour This recipe includes instructions for an herb/seasoning packet for extra flavor. You can skip that step and just add the herbs directly to the pot, omitting the use of black peppercorn balls. P.S. Like most soups, this one is even better the next day!
You need:
2 cups rinsed and drained French Lentils
3 med sized carrots
1 cup tomatoes (stewed in can or fresh)
1/2 a yellow onion
2 cloves garlic, minced
6 cups water
2 Tablespoons olive oil
1 Tablespoon dried tarragon
Few sprigs of fresh thyme
Few sprigs of fresh oregano
2 bay leaves
1/2 teaspoon cracked black pepper
1 Tablespoon salt
1 teaspoon paprika
2 Tablespoons miso paste dissolved in hot water
2 Tablespoons Worcestershire sauce
1 Tablespoon black peppercorn balls (ONLY if making herb packet, omit otherwise.)
Directions
Peel and cut carrots diagonally about 1/4 inch thick. Peel and mince garlic. Dice 1/2 your fresh herbs (reserve other half for herb packet). Chop onion and tomatoes (if using fresh tomatoes). Add oil to large pot over medium heat. Sauté onions and carrots until they start to brown a little. Add tomatoes, garlic, tarragon, diced herbs, paprika. Stir and cook covered for a few minutes. Then add water, Worcestershire sauce, lentils, salt and pepper. Cover and bring to a boil.
While soup heats to a boil, you can prepare your seasoning packet! Double two layers of cheese cloth large enough to contain herbs (refer to image in post). Place 2 bay leaves, black peppercorn balls and remaining sprigs of fresh herbs in the center of the cloth and tie up like a tight little package.
Once soup is boiling, uncover and reduce heat to a simmer. Ladle a small amount of hot broth into a small bowl or cup and mix/dissolve miso paste into it. Add dissolved miso paste to pot and stir. Add herb packet to pot and cook covered for 45 minutes – 1 hour or until lentils are tender.
If the soup looks too thin, uncover and simmer for a couple more minutes. If it looks too thick, add a touch more water. Serve with good, crusty bread!