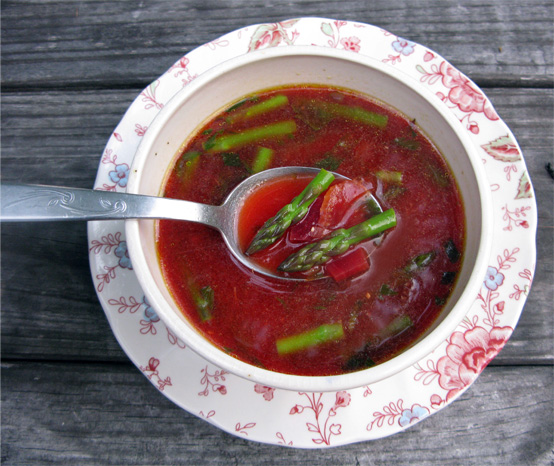 Recipe
Coop/prep time: 30 minutes Serves 4. The flavor of this soup is so refreshing and clean. You'll fell healthier right away!
You need:
1 tablespoon olive oil
1/3 cup onion of choice diced
1/3 cup chopped celery
1 cup peeled, chopped beet
1/2 cup chopped carrot
1 cup chopped asparagus (bases removed, tips left whole)
Some fresh scallions, chopped
Large handful flat-leaf fresh parsley, chopped
1 tablespoon minced ginger
5 cups water
Salt (about 1 teaspoon) to taste
3 tablespoons miso paste of choice
A little minced jalepeño or chile pepper (to taste)
Directions:
Heat the oil in a large pot over medium-high heat. Add the onion and sauté for a few minutes until begins to brown. Add the celery and scallions and half the parsley and sauté for another minute.
Add the water, beet, carrot, ginger, salt and pepper of choice. Increase the heat to high. Bring to a boil, reduce the heat to medium/low, cover and simmer for 10 to 15 minutes.
While that cooks, remove a ladle of the hot water from the pot and place in a small bowl on the side. Add miso paste to the small bowl and stir/mash in until fully combined (refer to image in post). Now add the dissolved miso to the soup pot. You can't skip this step and just add the miso directly to the main pot of soup – it will clump and never fully incorporate.
Add the asparagus and cook for another 5 minutes. Remove from the heat when asparagus are bright green and still firm. Stir in remaining parsley. Place in bowls and serve warm.