(Originally taken from Honestfare)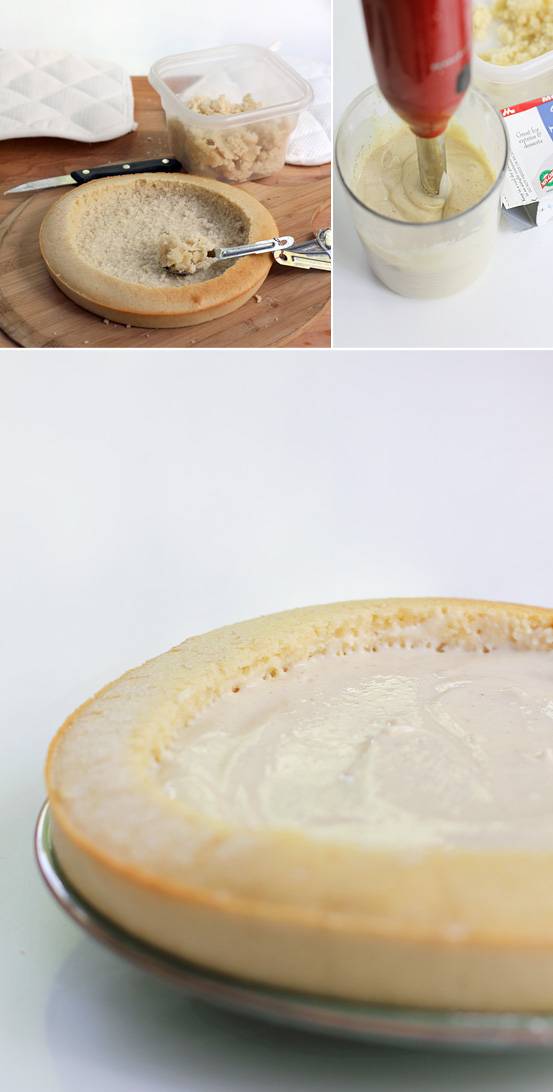 Recipe
Prep time: 15 minutes. Oven time: 30 minutes. I like to chill before eating. The do actually make store bought vegan whipped cream you can top this if you like.
You need:
For the cake:
2 1/2 cup flour (white all-purpose)
3/4 cup sugar
2 teaspoons baking powder
1/4 cup light oil
1 1/4 cup vanilla soy milk
3/4 cup water
3 tablespoons lemon juice
1 tablespoon vanilla extract
For the filling:
1 container firm silken tofu
1/4 cup white sugar
1 teaspoon vanilla extract
1 sprinkle cinnamon (optional)
1 teaspoon oil
A little soy milk
¼ cup cake (what you scooped out of the center of the cake)
1-2 tablespoons cornstarch (optional)
Directions
Place dry ingredients in a bowl and mix with fork. Place wet ingredients in a separate bowl and vigorously mix with a fork. Combine dry and wet ingredients and mix until there are no clumps.
Pour in a well-greased and floured pan and bake for 30-35 minutes at 350 degrees or until toothpick comes out clean. Remember, the cake will firm up as it cools.
To create the 'cup' once your cake is done, you have to cut along the inside perimeter (leave approximately 1 inch around the edge) and then spoon out some of the insides leaving about ½ inch thickness across the bottom. Place cake in fridge to chill. Set the cake you scoop out aside.
To make the custard/whipped cream filling you'll need a blender. Place entire container of firm silken tofu, oil, sugar, vanilla, cinnamon and about ¼ cup of the scooped cake into the blender and blend until smooth. Add a little soy milk if it's too thick…remember though, you want it to be thick enough to support the strawberries. If you have corn starch handy and don't mind using it, you can always add a tablespoon or 2 for added thickness if you want. Add more sugar if you like it sweeter.
Pour filling into chilled cake and cover with at least 2 layers of sliced strawberries (the first layer will sort of sink below the custard and help support the top layer of strawberries. Chill for an hour and enjoy cold!